Δρ. Παναγιώτης Κόγιας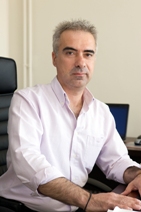 Επίκουρος Καθηγητής – Αν. Πρόεδρος Τμήματος

Ο Δρ. Παναγιώτης Κόγιας (Επίκουρος Καθηγητής), έλαβε το Δίπλωμα του Ηλεκτρολόγου Μηχανικού Τ.Ε από το Τ.Ε.Ι. Καβάλας τον Ιούνιο του 1987, το μεταπτυχιακό του από το τμήμα «Electric Power Supply and Equipment» του Τεχνικού Πανεπιστημίου του Γκάμπροβο και το διδακτορικό του από το τμήμα «Communication equipment and technologies» του Τεχνικού Πανεπιστημίου του Γκάμπροβο. Επίσης έχει πτυχίο παιδαγωγικών σπουδών ΣΕΛΕΤΕ (Ιούνιος 1995), καθώς και πτυχίο Μαιευτικής (Ιούνιος 1994). Τον Ιανουάριο του 2003 διορίστηκε στο ΤΕΙ Καβάλας ως Ειδικό Τεχνικό Προσωπικό έως τον Οκτώβριο του 2012 που εκλέχτηκε Καθηγητής Εφαρμογών στο τμήμα Ηλεκτρολογίας του ΤΕΙ Καβάλας. Επίσης έχει εμπειρία 9 ετών ως υπεύθυνος συντήρησης ηλεκτρομηχανολογικού εξοπλισμού σε διάφορες εταιρίες σαν ελεύθερος επαγγελματίας και σαν ιδιωτικός υπάλληλος
Έχει δεκαοκτώ (18) επιστημονικές εργασίες σε  διεθνή επιστημονικά περιοδικά με κριτές, επτά (7) ανακοινώσεις σε διεθνή συνέδρια και άλλα επτά (7) άρθρα προς δημοσίευση σε στάδιο under review. Έχει επαγγελματική εμπειρία πλέον των 18 ετών. Έχει μεγάλη συμμετοχή σε επιτροπές και σε όργανα διοίκησης του ΤΕΙ ΑΜΘ (Υπεύθυνος Τομέα Ηλεκτροτεχνίας, Υπεύθυνος των προγραμμάτων ERASMUS, Πρόεδρος της επιτροπής εισήγησης καταστροφής παγίων του ΤΕΙ, Μέλος της Επιστημονικής Επιτροπής Πανελληνίου Συνεδρίου κ.λ.π), καθώς και σε ερευνητικά προγράμματα, Τα τρέχοντα ερευνητικά του ενδιαφέροντα εστιάζονται στο πεδίο των τηλεπικοινωνιών, των τηλεμετρικών εφαρμογών και των αυτοματισμών.
Πλήρες Βιογραφικό Σημείωμα Google Scholar Citations
Διδακτορικό στο αντικείμενο των Τηλεπικοινωνιακών Συστημάτων. Τίτλος διδακτορικού : «Παρακολούθηση και έλεγχος επικοινωνιακών συστημάτων στην επίγεια ψηφιακή εκπομπή». Technical University of Gabrovo, Bulgaria, Department of « Communication equipment and technologies». (ΔΟΑΤΑΠ 2016).
Kogias P., S. Sadinov, P. Daneva, Simulation Study of time Synchronization for DVB-T systems, Journal of the Technical University of Gabrovo, ISSN:1310-6686, Vol. 50'2014, pp.32-37.
Sadinov S., Kogias P., Angelov K., Determination of Distortion in Broadband Amplifiers for Different Standarts of Signals in CatV Networks, ARPN Journal of Engineering and Applied Sciences, ISSN 1819-6608, VOL. 11, NO. 17, SEPTEMBER 2016. (SCOPUS INDEXING)
Koleva D., Kogias P., Comparative Analysis of Multiplied Models for Traffic Distribution in a Celular Network. JOURNAL OF ENGINEERING SCIENCE AND TECHNOLOGY REVIEW, Kavala, Greece, ISSN: 1791-2377, Vol. 9 Issue 1, p52-55. 4p. (SCOPUS INDEXING)
Sadinov S., P. Daneva and Kogias P., Description and Simulation of OFDM Reception Process, JOURNAL OF ENGINEERING SCIENCE AND TECHNOLOGY REVIEW, Kavala, Greece, ISSN:1791-2377, Vol.7, Issue 3, 2014, pp. 18-22. (SCOPUS INDEXING)
Fandidis J., Potolias K., Bandekas D., Kogias P., Stathakis E., Karakoulidis K., Meresentoglou K., Performance Evaluation of Roof-Top PV Systems in the Area of Kavala North Greece, Professional Paper  (iipp), paper number: 13(2015)4, 332, 217 – 224, doi:10.5937/jaes13-7950. (SCOPUS INDEXING)
G. Fantidis, D. V. Bandekas, C. Potolias, K. Karakoulidis, P. Kogias, "Financial crisis in Greece, the reason for the replacement of heating diesel systems" American Journal of Environmental Engineering and Science. Vol. 2, No. 1, 2015, pp. 1–6
Karakoulidis K., Fandidis J., Potolias K., Kogias P., Bandekas D., The temperature measurement of a single phase induction motor under different conditions ARPN Journal of Engineering and Applied Sciences, ISSN 1819-6608, VOL. 11, NO. 19, OCTOBER 2016. (SCOPUS INDEXING)
Balabanova I.,Georgiev G., Kogias P., Sadinov S., Selection of Plan of Experiment by Statistical Analysis of the Paremeters of Teletraffic Model with Voice Services,   JOURNAL OF ENGINEERING SCIENCE AND TECHNOLOGY REVIEW, Kavala, Greece, ISSN:1791-2377, Vol.9, Issue 6, 2016, pp. 76-81. (SCOPUS INDEXING)
Fantidis, J. G., Dalakas, A., Potolias, C., Karakoulidis, K., Kogias, P, A Fast Neutron and Gamma Ray System for the Detection of Illicit Materials Based on Simple Isotopic Sources, JOURNAL OF ENGINEERING SCIENCE AND TECHNOLOGY REVIEW, Kavala, Greece, ISSN:1791-2377, Vol.9, Issue 6, 2016, pp. 52-58. (SCOPUS INDEXING)
Koleva D., Sadinov S., Kogias P., Planing of Celular Radio Broadcasting in UMTS Standard and Synthenization of Simulation Model t Study WCDMA Spreading and Modulation, Journal of the Union of Scientists Ruse, ISSN:1311-106X, Vol.13, 2016, pp. 7-12.
Krasen Angelov, Stanimir Sadinov and Panagiotis Kogias, Practical Model for Management, Monitoring and Research of Passive Optical Network, 2017 XXVI International Scientific Conference Electronics (ET) , 13-15 Sept. 2017 Sozopol, Bulgaria, DOI: 10.1109/ET.2017.8124332, Publisher: IEEE, p.p: 77-81, ISBN 978-1-5386-1752-6, IEEE Catalog Number CFP17H39-CDR. (SCOPUS INDEXING)
Stanimir Sadinov, Krasen  Angelov, Panagiotis Kogias and Michail Malamatoudis, Iterative Estimation and Simulation Analysis of the Amplifying Sections in Optical Communication Network, 2017 XXVI International Scientific Conference Electronics (ET) , 13-15 Sept. 2017 Sozopol, Bulgaria, DOI: 10.1109/ET.2017.8124385, Publisher: IEEE, p.p: 300-304, ISBN 978-1-5386-1752-6, IEEE Catalog Number CFP17H39-CDR. (SCOPUS INDEXING)
Nikolay Madzharov, Valeri Petkov, Panagiotis Kogias and Konstantinos Karakoulidis, Analysis of high-speed rotary wireless power transmitters, 2017 XXVI International Scientific Conference Electronics (ET) , 13-15 Sept. 2017 Sozopol, Bulgaria, DOI: 10.1109/ET.2017.8124363 Publisher: IEEE, p.p: 265-269, ISBN 978-1-5386-1752-6, IEEE Catalog Number CFP17H39-CDR. (SCOPUS INDEXING)
Panagiotis Kogias, Kyriakos Ovaliadis, Fotini Kogia, Comparative Performance Evaluation of M-ARY QAM Modulation Schemes Using Simulink and BERTool, ARPN Journal of Engineering and Applied Sciences, ISSN 1819-6608, VOL. 12, NO 22, NOVEMBER 2017. (SCOPUS INDEXING)
Ivaylo Stoyanov, Teodor Iliev, Grigor Mihaylov, Elena Ivanova, Panagiotis Kogias, Smart Grid Communication Protocols in Intelligent Service for Household Energy Use, Advances in Intelligent Systems and Computing, Springer Publications, DOI: 10.1007/978-3-319-67618-0_35, Vol. 661, 2018, pp. 380-389. (SCOPUS INDEXING)
Panagiotis Kogias, Marina Negianni, Jacob Fantidis, Fotini Kogia, Mathematical Analysis of a Parking System for Telemetry Applications, (JAES) Journal of Applied Engineering Science, ISSN: 1821-3197, number 2, Volume 16, year 2018. DOI: 10.5937 / jaes16-1609, paper number: 16(2018)2, 519, 202- 207, (SCOPUS INDEXING)
Georgi Georgiev, Ivelina Balabanova,  Panagiotis Kogias, Stanimir Sadinov, Stela Kostadinova, Identification of Sine, Squire, Triangle and Sawtooth Waveforms with Uniform White and Inverse F Noises by Adaptive Neuro-Fuzzy Interface System (accepted  for publication, 18-7-2018 ) (JESTR) (SCOPUS INDEXING)
Angelov, S. Sadinov, Panagiotis Kogias, M. Malamatoudis, Simulation Study and Analysis of High-Speed Single Channel Transmission in Optical Communication Line, IX International conference with international participation "Electronica 2018" 17-18.05.2018, CEEC, Sofia, Bulgaria, 2018 (accepted for publication), Publisher: IEEE, (SCOPUS INDEXING).
Malamatoudis, K. Angelov, S. Sadinov, Panagiotis Kogias, Performance Analysis of High-Speed Single Channel Transmission in Optical Communication Line, Proc. XXVII International Scientific Conference Electronics – ET2018, September 13-15, 2017, Sozopol, Bulgaria (registered and waiting for notification of acceptance – July 31), Publisher: IEEE, (SCOPUS INDEXING )
Ivelina Balabanova,  Georgi Georgiev, Panagiotis Kogias and Stela Kostadinova, Modeling of Digital Filters by LabVIEW WEB Application for Education in Telecommunication (Under Review) (JESTR) (SCOPUS INDEXING)
Panagiotis Kogias, Performance Analysis of Radiofrequency Coverage of Digital Terrestrial Television (DVB-T) (Under Review) (IJEEI) (SCOPUS INDEXING)
Panagiotis Kogias, Stanimir Sadinov, Fotini Kogia, Orthogonal Frequency Division Multiplexing (OFDM) Transmission Simulation (Under Review) (TTJ) (SCOPUS INDEXING)
Michail Malamatoudis, Panagiotis Kogias, Nikolay Manchev, Stanimir Sadinov, Design, Implementation and Analysis of a Wireless Network Coverage using a Nanostation, (Under Review) (ARPN) (SCOPUS INDEXING)
Stanimir Sadinov, Pesha Daneva, Panagiotis Kogias, Jordan Kanev, Kyriakos Ovaliadis, Binary Phase Shift Keying (BPSK) simulation using Matlab, (Under Review) (ARPN) (SCOPUS INDEXING)
Boyan Karapenev, Stanimir Sadinov, Panagiotis Kogias, Yordan Kanev, Synthesis of Simulation Models for the Study of Principal Processes of Coding the Communication Channel in the DVB-T System, (Under Review) (ARPN) (SCOPUS INDEXING)
Kogias P., Sadinov S., Daneva P., Kunev Y., Simulation study of the frequency offset for DVB-T systems, Scientific Conference – RU & SU'14, Rouse University, Scientific works of the Rouse University – 2014, ISSN 1311-3321, volume 53, series 3.2, p.p: 96-102
Jacob Fantidis, D. Bandekas, P. Kogias, N.Vordos, The Evaluation on Dual, Triple and Quadruple Energy X-Ray Systems for the Material Characterisation of a Suspicious Bulky Object, Recent Advances in Energy, Environment, Biology and Ecology, Proceedings of the 10th WSEAS International Conference on Energy, Environment, Ecosystems and Sustainable Development (EEESD '14), pp. 143 – 148, 10-12 January 2014, ISBN: 978-960-474-358-2, Tenerife, Spain
Angelov K., P. Kogias, S. Sadinov., Performance Analysis of  DOCSIS 3.0 Upstream Channel Bonding in Cable Television Networks, International Scientific Conference, "UNITECH 2015",Gabrovo, ISSN 1313-230X, Vol. 2, p.p. 147-150
Angelov K., Kogias P., Malamatudis M., Sadinov S., Experimental Research on Parameters and Characteristics of Signals in the Satellite Digital Television, International Scientific Conference, "UNITECH 2016",Gabrovo, ISSN 1313-230X, Vol. 2, p.p. 134-139
Sadinov S., Malamatudis M., Kogias P., Angelov K., Simulation research of a model for the transmission of digital television standard DVB-S/S2, Proceedings of University of Ruse, 2016, ISSN 1311-3321, SAT-2G.302-1-CSNT-01, Vol. 55, p.p. 25-34
Sadinov S., K. Angelov, P. Kogias, Investigation of the Reliability of the Cable Television Head and Using a Markov Processes, Journal of the Technical University of Gabrovo, Vol. 54-2017, Gabrovo, 2017, p.p. 65-68, ISSN 1310-6686
Angelov K., S. Sadinov, P. Kogias, M. Malamatoudis, Modeling and Analysis of Broadband Optical Communication System Based on a Passive Optical Network, International Scientific Conference, "UNITECH 2017",Gabrovo, ISSN 1313-230X, Vol. 2, (in process of printing)
Συστήματα Αυτομάτου Ελέγχου,
Ασύρματες Επικοινωνίες,
Τηλεπικοινωνιακά Συστήματα και
Προγραμματιζόμενους Λογικούς Ελεγκτές ( PLC),
Τα ερευνητικά του ενδιαφέροντα εστιάζονται στα παρακάτω επιστηµονικά πεδία:
Ασύρματες Επικοινωνίες και δίκτυα
Συστήματα Αυτόματου Ελέγχου
Κεραίες, Ασύρματες Ζεύξεις,
Τμήμα Ηλεκτρολόγων Μηχανικών,
ΤΕΙ Ανατολικής Μακεδονίας και Θράκης, Αγ. Λουκάς, ΤΚ 654 04

+30 2510 462246

—

—

kogias@teiemt.gr
Δευτέρα έως Παρασκευή 08:00 – 10:00